So this post is a month late, but to be honest, taking part in the MS Gong ride was a little underwhelming. I don't mean to sound like Mr. Negative (he's more nasal), but could have gladly raised money in another fashion and not ridden with 10,000 other people, most of whom didn't have a clue about the etiquette required for riding with so many others.
First, a bit of background. The MS Gong Ride has been going for 36 years and each year aims to raise as much money as possible through sponsored riders who complete a course from Sydney to Woolongong. The money raised goes towards funding research into Multiple Sclerosis. It was well organised by an army of mostly volunteers and you could call on a mobile mechanic if needed, or get medical attention at any step of the way. It was great to see so many people come from all over Australia to participate on so many different bikes – there were road bikes, mountain bikes, fat bikes, unicycles, trekking bikes, classic bikes and K-Mart specials. Anyway, on with the story.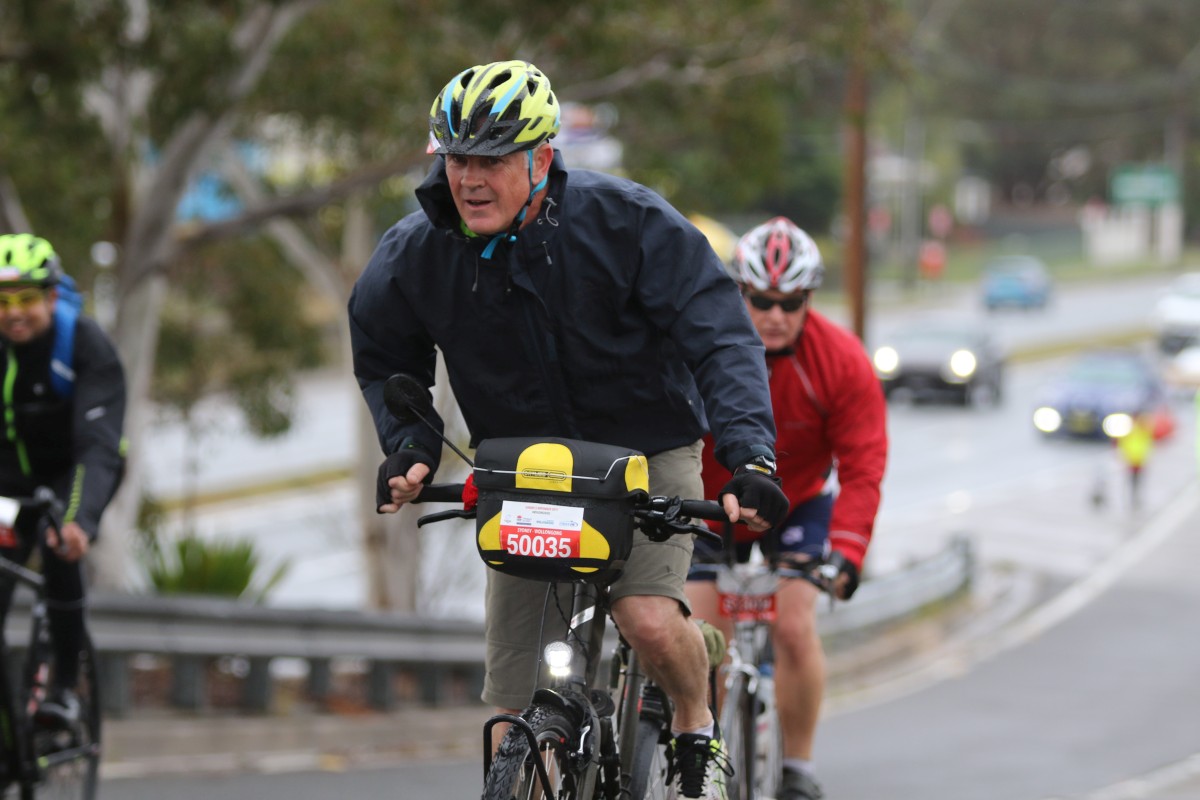 It started off well enough. I took the train from Woolongong on Saturday afternoon and found my hotel easy enough. My palatial accommodation featured not only the ability to hear everything going on in the reception area, but with the added bonus of being able to hear the orders being made at the drive-through right next door. But that's not all, the breakfast surprise was being directly beneath the flight path too. So much for a good night's sleep.
The day dawned dark and grey with sporadic showers and a glum feeling in the air at the start point. Despite the heroic efforts of the M.C. there was very little lifting of spirits and most of us were grateful when our starting window arrived and we could get outta there. The first 20 K's were mostly suburban roads with a heavy (and welcome) police presence to remind motorists that for that day, we had the roads, but I can't say it was pleasant. On to Waterfall and the local CFA had a rest stop set up with toilets, a water point and bicycle mechanics on hand to keep your trusty steed on the road.
Along the way I had a few laughs at people getting their feet stuck in their cleats and falling over at the traffic lights (they weren't hurt) and lycra-clad morons driving each other forward with whoops and yells only to be stopped at a set of lights. For me, and I'm sure many others, cycling through Royal National Park was the highlight of the day. Stunning scenery, long downhill runs and we had the roads all to ourselves. One highlight was watching a mate's teenage son honking it up the hills on his 1980's Europa 10 speed, cranking past guys on bikes costing several thousand with better gear ratios who had gotten off and started to walk. On one downhill run, I distinctly smelt the aroma of burning rubber as I'm sure many a rider was pulling on the brakes a little too tightly.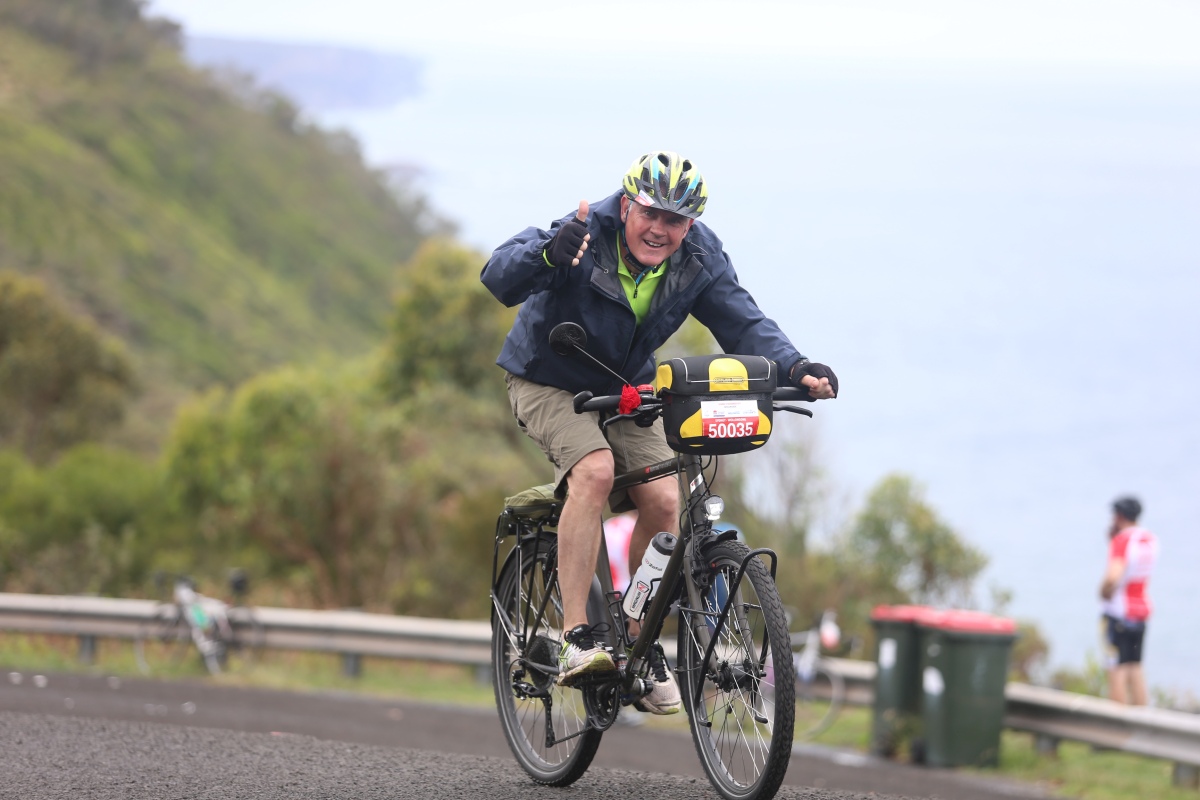 The closer we got to Woolongong, I noticed less of a police presence and it seemed to show in the attitudes of the drivers. This event has been running for 36 years and still, some people seemed surprised to see us. One guy even backed is F350 out of his driveway and into a pack of us, narrowly missing a lady who yelled her displeasure after swerving out of his way. The lovely chap then hurled a few gob-fulls of abuse at her. Charming. Funnily enough, even though none of us in the pack knew each other, we managed to all yell "wanker" at more or less the same moment. Ahh, happy times.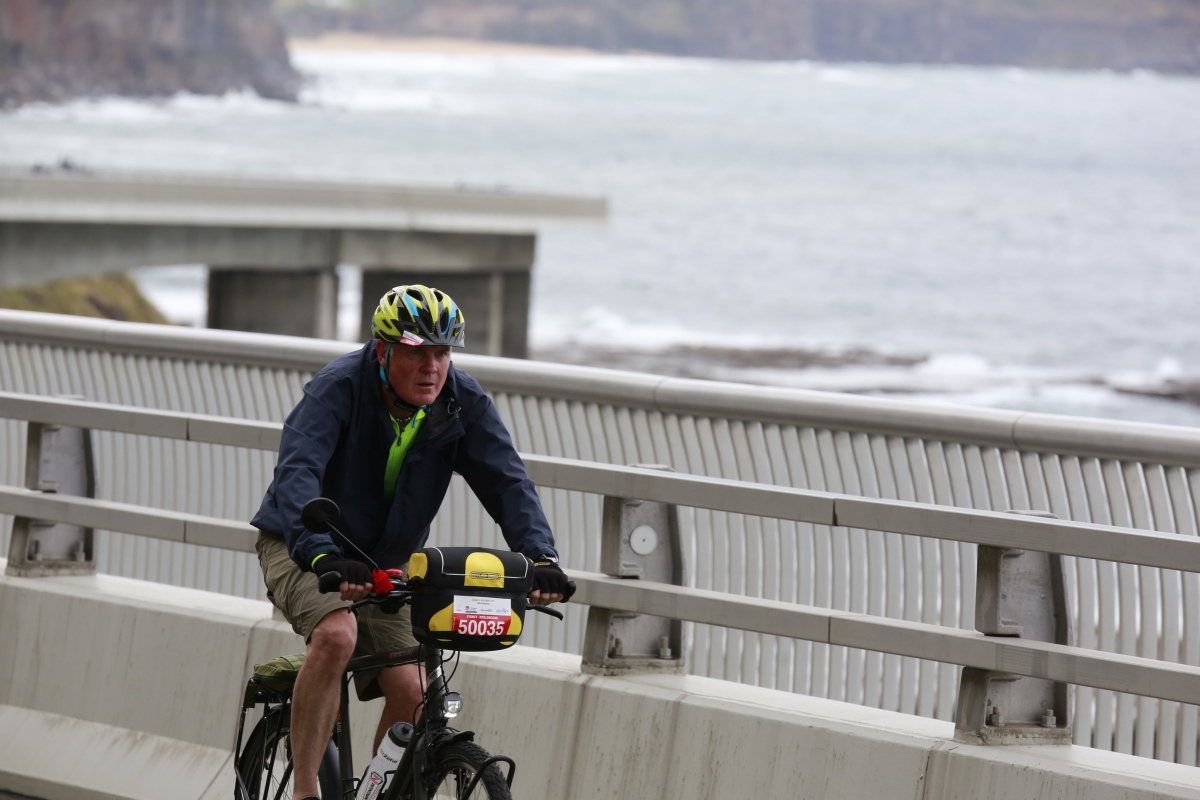 We got to ride along the Sea Cliff Bridge, that iconic piece of construction that features in so many car ads. Box ticked. A few more coastal communities and before I knew it I was rounding the corner and crossing the finish line. I was presented with a medal as I walked into W.A. Lang Park and immediately spied TW's boss, whom I'd started off with. Her car had been towed and no-one could tell her where she could go to pick it up. Now that sucks. I set off to find my bag which I'd checked in at Sydney, then find my mate Shamus so we could hook up with our families who were hanging out together.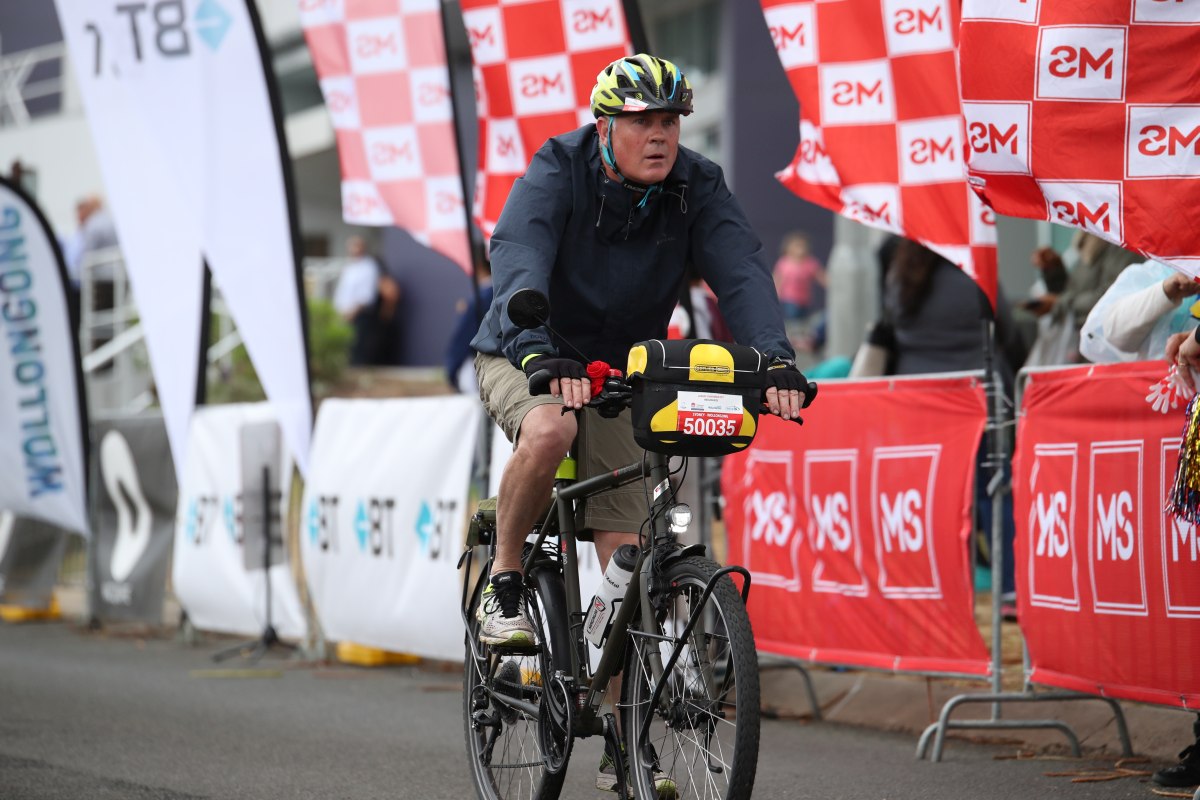 Shamus' wife picked us up and took us to where the rest of the clan was waiting. They'd seen us ride past but we didn't hear them cheering, which was a pity as the kids were disappointed we didn't wave. Anyway we said our goodbyes and headed to our accommodation and a warm bath for me, which, by the way worked wonders and I didn't have any muscle soreness after.
So all in all, I enjoyed being part of a fundraiser, but as a cycling event it wasn't that enjoyable.  Next year, I'll find another way to contribute I think.