And so, after months of research followed by more months of eager antica….. pation, I have finally taken delivery of my new bike. For the non-cyclists among you, imagine taking delivery of a new car, or a boat and having it be everything you ever wanted it to be. Yes dear readers, excuse my heavy breathing, but that is what my new bike is like.
It came with everything you need to set off on a serious bike trip: Front and rear racks, dynamo front hub, lights, 30 gears (do I need that many?), two bottle cages with capacity for one more, Schwalbe tyres, mudguards – the lot. All I had to do was throw my panniers on and go.
WARNING! the following text contains technical specifications and are bound to be of interest only to cycling nuts. If you are not a cycling nut, leave now lest you suddenly get the urge to join the ranks of two wheeled freaks.
Frame: 57cm, double butted 25CRMO 4, Olive drab
Crank set: Shimano Deore XT FC-T611 48/36/26; rear sproket Shimano CS-HG62, 11-34; Shimano Deore shifters
Wheels etc: Rims – Exal MX-19 double walled, double eyed spokes; Front hub – Shimano DH-3N72 dynamo; Rear hub – Shimano Deore FH-T610; Tyres – Schwalbe Marathon Mondial 26 x 2.0
Mud guards: SKS fenders
Racks: Front – Tubus Tara Lowrider; Rear – Tubus Cargo
Brakes: Magura HS22 hydraulic rim brakes
Lights: Front – B & M Lumotec IQ CYO Sensor plus, LED 60 lux with parking light; Rear – B & M Topflight flat plus, LED with parking light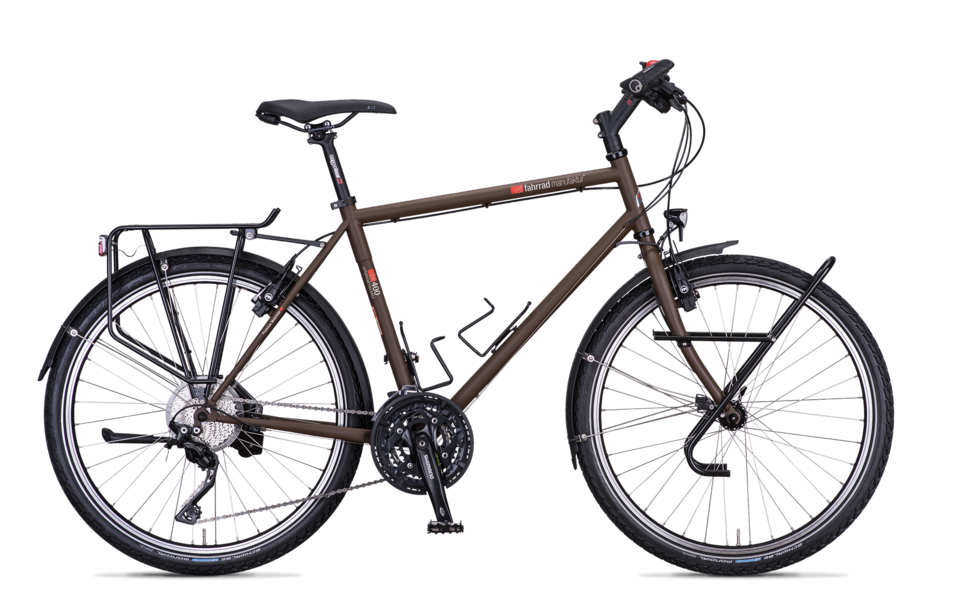 I'll post a review after the first few rides.